Township News
&

Information
PFAS Testing - Homes
PFAS Testing: The preliminary testing of homes around Robinson Elementary School has been completed and they are currently waiting for results.
There is NO testing being conducted at this time.
If anyone approaches you saying they have come to test your water, please call the State of Michigan Environmental Assistance Center at 800-662-9278.
If you have further questions please refer to https://www.miottawa.org/PFAS
PFAS - Robinson Elementary School
On October 29, Robinson Township was informed that the Ottawa County Department of Public Health and Grand Haven Public Schools were notified of elevated levels of PFAS at Grand Haven's Robinson Elementary School. School leaders immediately restricted access to drinking water in the building; bottled water is being provided to the school. Other than Robinson Elementary, all other schools in the Grand Haven Public School District are served by Northwest Ottawa Water System. This system has been tested and the results were as below health advisory levels.
For more information, click here:
Snowplowing Bids Requested
SNOWPLOWING BIDS REQUESTED
Robinson Township is requesting separate snowplowing quotes covering two (2) separate areas. The areas are:
1. Township Hall parking/drive area.
2. As needed for funerals – Robinson Township Cemetery on North Cedar Drive (three most easterly drives).
We would want the lot plowed, sidewalks shoveled, and everything salted by 8:30 a.m. We would request that the lot be plowed during the day if 3 or more inches of snow falls. We are open Monday thru Thursday from 9 a.m. to 5 p.m. We do have some evening meetings and we would call by 5 p.m. if plowing is needed for that evening. Removal of snow piles may be needed. The snow can be taken to our park across the street from Town Hall. The address for the Township Office/Fire Barn is 12010 120th Avenue, Grand Haven, MI. Our phone is 616/846-2210. To email your quote, my email address is supervisor@robinson-twp.org. Please direct all inquiries and correspondence to me – Kathryn Kuck, Robinson Township Supervisor. Quotes are due November 2, 2018 by 5 p.m.
New Office Hours
Beginning Monday, November 12, 2018, the Robinson Township Office hours will be as follows:
Monday, 9 AM to Noon and 1 P.M. to 5 P.M.
Tuesday, 9 AM to Noon and 1 P.M. to 5 P.M.
Wednesday, 1 P.M. to 5 P.M.
Thursday, 9 AM to Noon and 1 P.M. to 5 P.M.
Friday – Closed
Lost & Found
Occasionally, items found in the Township Park or other Township Properties are turned into the Township Office.  If you have lost something, check in the office. We might have it!
Reflective Address Signs

If you would like to order a sign, please see the order form link on the left side of the web page.  Cost is only $15.
These forms need to be submitted to Grand Haven Charter Township:
13300 168th Ave
Grand Haven, MI 49417
Phone: (616) 842-5988
Properly displayed house numbers allow emergency personnel to RESPOND MORE QUICKLY to an emergency!
Grand Haven Township Fire/Rescue and Robinson Township Fire Departments are encouraging all residents to properly display their address.
To assist the residents, the township has begun processing orders for HIGHLY REFLECTIVE GREEN address signs that can be displayed near the street. The signs may be displayed on a pre-existing mail box or on a post near the end of your driveway, visible from the street. If your mailbox does not sit on the same property as your house (i.e. across the street) or is clustered together with several other mailboxes, it is suggested that your new sign be installed on a post near the end of your driveway, visible from the street.
In an emergency…if we can't find you…WE CAN'T HELP YOU!!!
Endorsed by Muskegon, Oceana and Ottawa County Emergency
Services, 911 director and the Ottawa County Fire Chiefs Assoc.
Especially effective at night
Numbers on both sides (white over green)
Rust and weather proof heavy gauge aluminum
Flag Retirement Box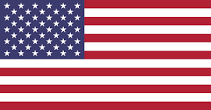 Through a partnership with the National Flag Foundation and the National Sheriff's Association, the National Association of Counties is providing free flag retirement boxes to member counties, including Ottawa.
Flags deposited in the boxes will be collected and respectfully disposed of according to the U.S. Flag Code. Depending upon response, the Ottawa County box will be rotated on a monthly basis among County facilities. To start, it will be placed in the lobby of the Fillmore Administration Building near the boardroom.
For more information, visit miottawa.org.
Robinson Township History Books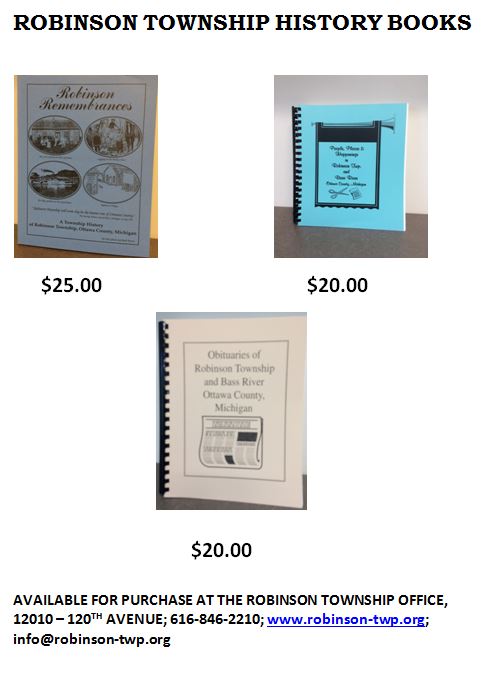 Medication Disposal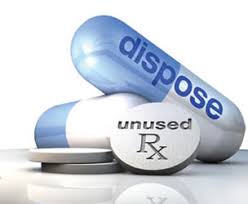 Medication Disposal
Don't Flush unwanted meds!…instead, safely dispose of your personal medications at any of the listed sites located in Holland, Grand Haven, Spring Lake and Hudsonville during regular business hours.  Call for their latest hours.
Grand Haven Township Admin Office:  13300 168th Ave. (616) 842-5988.
Grand Haven Police Dept. Admin Office:  525 Washington Ave.  (616) 842-3460.
Spring Lake Police Dept. Admin. Office:  102 W. Savidge St. (616) 842-1889.
Holland:  12251 James St.  (616) 396-5266.
Hudsonville:  3100 Port Sheldon Rd.  (616) 669-0040.
Please remove pills from the pill bottles and place them in a plastic bag before dropping them off at the site of your choosing.  If you have questions about the Ottawa County's unwanted medication collection program, please call 616-393-5645
Clean-up Our River Environment – www.COREmichigan.org