Township News
&

Information
2018 Robinson Township Elections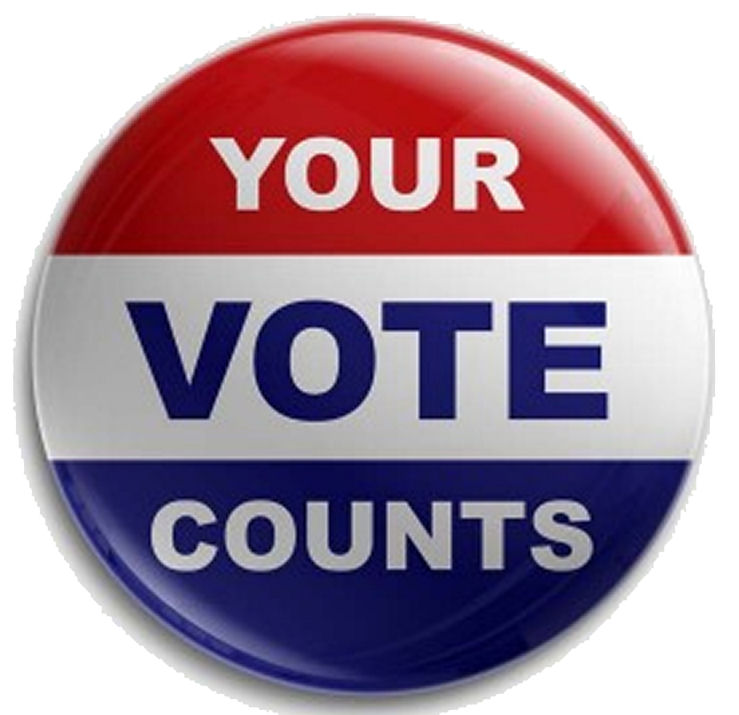 2018 Robinson Township Elections
If you would like to see your ballot, track the status of your Absentee Ballot, or verify your voter registration, you can do so at this website:
webapps.sos.state.mi.us/MVIC/VoterSearch.aspx
If you need to register to vote, this website explains how to do so:
www.michigan.gov/sos/0,4670,7-127-1633_8716_8726_47669-175878–,00.html
The Robinson Township Clerk's page has many helpful voter documents including "How to request an absentee voter application".  The link is below.
www.robinson-twp.org/Departments/ClerksOffice/tabid/64/Default.aspx
Election Dates:
General Election – November 6, 2018
Deadline to register to vote is October 9, 2018
The Robinson Township office will be open on Saturday, November 3 from 9-2 for the issuance of absentee ballots
Upcoming Road Projects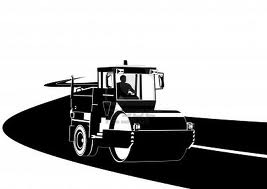 Upcoming Road Projects In Robinson Township
M-45 / Lake Michigan Drive (US-31 to M-231) repaving.  This is a MDOT project.  Start Date is April 30, 2018.  Tentative completion date is October 22, 2018.
Osborn, Bass, Warner (104th Ave to 68th Ave) repaving + 3′ shoulder.  Bid date is June, 2018.  Work will commence after that.  This is an Ottawa County project.
To see all 2018 Ottawa County Road Commission projects, please use the link below.
www.ottawacorc.com/construction-projects/ .
Civilian Response to Active Shooter Events (CRASE)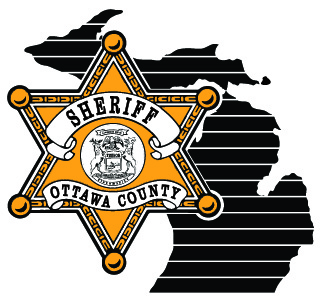 Civilian Response to Active Shooter Events (CRASE)
Registration is necessary and can be done at www.miottawa.org/
Dates:  July 10, August 16
Location: West Olive Fillmore Complex
When it comes to many emergencies, we were taught at a young age how to respond. Tornado–Seek shelter in a basement. But what should you do in the case of an active shooter? Like any emergency, doing the right things can save your life. The Civilian Response to Active Shooter Events (CRASE) course was developed by ALERRT (Advanced Law Enforcement Rapid Response Training) and provides strategies, guidance, and a proven plan for surviving an active shooter event.
Participants must be at least 18 years of age; please bring picture ID such as a driver's license or state-issued identification.
The event will take place at:
Ottawa County Fillmore Complex
Administrative Building
Main Conference Room
12220 Fillmore Street
West Olive
Lost & Found
Occasionally, items found in the Township Park or other Township Properties are turned into the Township Office.  If you have lost something, check in the office. We might have it!
Reflective Address Signs

If you would like to order a sign, please see the order form link on the left side of the web page.  Cost is only $15.
These forms need to be submitted to Grand Haven Charter Township:
13300 168th Ave
Grand Haven, MI 49417
Phone: (616) 842-5988
Properly displayed house numbers allow emergency personnel to RESPOND MORE QUICKLY to an emergency!
Grand Haven Township Fire/Rescue and Robinson Township Fire Departments are encouraging all residents to properly display their address.
To assist the residents, the township has begun processing orders for HIGHLY REFLECTIVE GREEN address signs that can be displayed near the street. The signs may be displayed on a pre-existing mail box or on a post near the end of your driveway, visible from the street. If your mailbox does not sit on the same property as your house (i.e. across the street) or is clustered together with several other mailboxes, it is suggested that your new sign be installed on a post near the end of your driveway, visible from the street.
In an emergency…if we can't find you…WE CAN'T HELP YOU!!!
Endorsed by Muskegon, Oceana and Ottawa County Emergency
Services, 911 director and the Ottawa County Fire Chiefs Assoc.
Especially effective at night
Numbers on both sides (white over green)
Rust and weather proof heavy gauge aluminum
Flag Retirement Box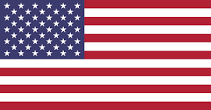 Through a partnership with the National Flag Foundation and the National Sheriff's Association, the National Association of Counties is providing free flag retirement boxes to member counties, including Ottawa.
Flags deposited in the boxes will be collected and respectfully disposed of according to the U.S. Flag Code. Depending upon response, the Ottawa County box will be rotated on a monthly basis among County facilities. To start, it will be placed in the lobby of the Fillmore Administration Building near the boardroom.
For more information, visit miottawa.org.
Robinson Township History Books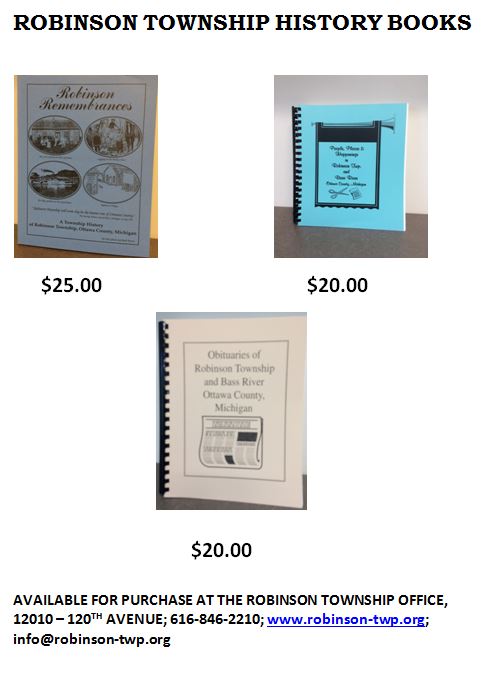 Medication Disposal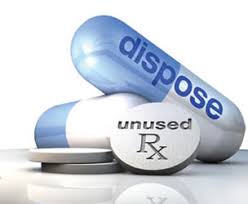 Medication Disposal
Don't Flush unwanted meds!…instead, safely dispose of your personal medications at any of the listed sites located in Holland, Grand Haven, Spring Lake and Hudsonville during regular business hours.  Call for their latest hours.
Grand Haven Township Admin Office:  13300 168th Ave. (616) 842-5988.
Grand Haven Police Dept. Admin Office:  525 Washington Ave.  (616) 842-3460.
Spring Lake Police Dept. Admin. Office:  102 W. Savidge St. (616) 842-1889.
Holland:  12251 James St.  (616) 396-5266.
Hudsonville:  3100 Port Sheldon Rd.  (616) 669-0040.
Please remove pills from the pill bottles and place them in a plastic bag before dropping them off at the site of your choosing.  If you have questions about the Ottawa County's unwanted medication collection program, please call 616-393-5645
Clean-up Our River Environment – www.COREmichigan.org
Wicked Robinson Cemetery Tour
Explore the more "wicked" and "notorious" residents of Robinson Twp's past. Stories of mysterious crimes, murders, miscreants and other dubious characters are all part of Robinson's exciting past! Meet at the cemetery entrance. Tours are weather permitting.
Thursday August 30, 2018
6:00 pm – 7:30 pm
Robinson Township Cemetery, 10780 N Cedar Dr., Grand Haven
For more information, please go to http://visitgrandhaven.com/event/wicked-robinson-township-cemetery-tour/
M 231 River Run 10K & 4 Miler
231 River Run – October 27, 2018
Register Now for the fourth annual run across M231 hosted by Ottawa County. The race is being renamed the 231 River Run. Less of the run will be on M231 and more will be on the Idema Explorer's Trail and the Spoonville Trail. In fact, if you have run this event before, you'll be pounding the pavement on the very paths you helped complete. We think THIS is pretty cool! Two distances will be available: 10k and 4 mile. As in previous years, proceeds from the run go toward paved trails and bike paths in the West Michigan area. (There are plenty of miles yet to be paved.)
For more information and to Register, Please go to :